GLP-GEfIL
News about GLP-GEfIL
Information Sessions for GLP-GEfIL 6th recruitment took place.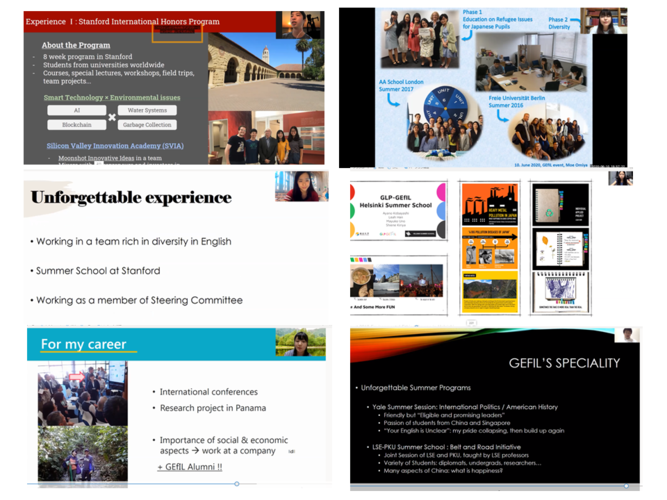 Every year, the GLP-GEfIL recruitment Information sessions were held in the lounge of the South Building of Komaba Communication Plaza. This year, due to the coronavirus epidemic, all 7 sessions were held through Zoom. Each time, the overview and curriculum the courses taken at GLP-GEfIL, the experiences and messages from senior students, and the various notes regarding application were presented. 17 senior students participated in total over 7 times.
As an advantage of holding online sessions, a senior student who is studying abroad participated from abroad, and some seniors participated from the workplace when they were busy with work/study. It was our first online briefing session, so we were worried that the information would be spread properly, but more than 170 YEAR 1 and YEAR 2 students participated and showed their interest in the program.
One of the big attractions of GLP-GEfIL is the short-term study abroad program twice with scholarships, but unfortunately all programs have been canceled since March of this year. As a special case this summer, some of the GEfIL students are taking the online programs of overseas universities that they plan to travel to, or others transferred to MOOC courses. Now that we are at a global turning point, we are doing our best to prepare for the next step. By all means, everyone aiming for the 6th generation of GLP-GEfIL will be able to build up what we can do together.
The GLP-GEfIL 6th application deadline is Monday, August 31st. We are all looking forward to receiving your application.
Online Registration from here → https://www.e-space.ne.jp/glp.u-tokyo.ac.jp/form/entry.asp?no=RHjsNk6
(2020/07/10)