Activity Report
About GEfIL ALUMNI GROUP Activity Report
GEfIL ALUMNI GROUP Activity Report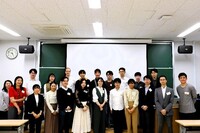 【The 2nd GEfIL Conversation Session with Alumni】
The second GEfIL Conversation Session was held on Sunday, April 10th.
This session was organized for the second time, backed by the positive feedback from the inaugural session hosted last December.
11 GEfIL Alumni and students from various fields of interest enjoyed the opportunity to exchange experiences and network.
We look forward to continue providing GEfIL Alumni and students more opportunities for networking!
---
GEfIL ALUMNI GROUP Accounting Report