Activity with Soponsor Companies
Infomration about activities with Sopnsor Companies
Sumitomo Corporation extends support for the UTokyo GLP Program!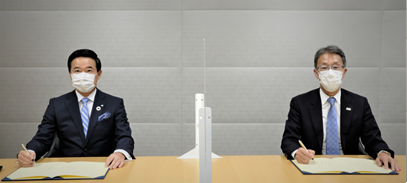 As a sponsor of the "UTokyo Global Leadership Program (GLP)" established with the aim of developing leaders in the international community, Sumitomo Corporation has been a "Utokyo GLP Leading Partner" since 2018 and provided continuous support. On September 3, 2021, a memorandum of understanding was signed between President Teruo Fujii and Masayuki Hyodo, President and CEO of Sumitomo Corporation, to extend support for another three years.

In line with GLP-GEfIL's goal to develop next-generation leaders with the "ability to collaborate across disciplines based on specialized academic fields" and the "ability to present innovative solutions to the problems facing the world," Sumitomo Corporation has been supporting the program since its establishment in 2013. To date, 200 people have completed the GLP-GEfIL program and are beginning to play an active role in various fields. An alumni association of graduates was also established in 2018.

In the exchange of opinions between President Fujii and President Hyodo, they agreed that it is important to maintain a relationship with the other party in connection with foreign countries, and the number of leaders who can tackle global issues transcends countries, regions and fields. They shared the belief that it is important to acquire the ability to engage in "dialogue" with others who have diverse values ​​and the ability to be recognized by the other party. In addition, "promotion of diversity" is mentioned as an issue peculiar to Japan, and as one example, it is a common responsibility of industry and academia from the viewpoint of human resource development to solve social issues to further expand the opportunities for women to play an active role.

We would like to express our sincere gratitude for the continued support of Sumitomo Corporation.


For reference:
・Extending Partnership with the University of Tokyo on its Global Leadership Program
・Partnership with the University of Tokyo on its Global Leadership Program

Please also refer to UTokyo Web site
(2021/09/29)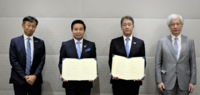 President Teruo FUJII (center right) and Director, GLP Office, Kiichi FUJIWARA (right)
Sumitomo Corporation, Director, President and CEO Masayuki HYODO (center left) and Director, Senior Managing Executive Officer, Hideki YAMANO (left)

*Masks were removed only when photo shooting, and we gave due consideration to preventive measures against COVID-19 infection.