GLP-GEfIL
News about GLP-GEfIL
2022/9/27 GEfIL Abroad Program Reporting Session was held face-to-face for the first time in 3 years!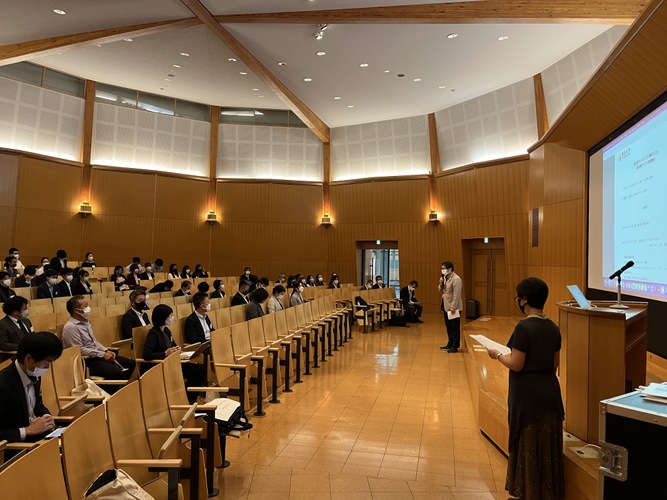 ☆More pictures available on GEfIL Facebook!
☆An article about GEfIL Abroad Program on website of Exeter College, Oxford by Himena MIYASHITA !

---------
On Tuesday, 27th September, the GEfIL Abroad Program Reporting Session was held at Ichijo Hall, Yayoi Campus. After two years of travel restriction due to the pandemic, about 100 students were able to travel abroad this summer.

On the day of the event, 60 current GEfIL students and representatives from companies interacted with each other. 18 representatives from 10 companies participated in it.

The first part of the Briefint Session is a presentation by the sponsor companies. The following five companies acted as presenters.
・Takeda Pharmaceutical Co., Ltd. Mr. Yasutake Zushi, Mr. Toshiyuki Saiki
・Sumitomo Corporation Ms. Kaori Uekusa
・Sony Group Corporation Mr. Hiroyuki Yamasuge
· Johnson & Johnson Ms.Yuko Morikawa
・Ezaki Glico Co., Ltd. Ms.Sayuri Koda

The second part is the Reporting Sessions from the GEfIL Students. 22 students from the 6 teams took the podium and reported in English on the GEfIL Abroad Programs they experienced this summer.
・UK Oxfod (St. Antony's, Exeter), LSE,UCL
・France Sciences Po
・Germany Humboldt, Bauhaus, Aachen, LMU
・Netherlands Utrecht
・Singapore Nanyang Technological
・USA Harvard, Stanford, Berkeley, Yale

This was followed by presentations by GEfIL Alumni Group, and comments from Prof. Kunihito Ota and Prof. Kaori Hayashi, who are Executive Directors and Vice Presidents of UTokyo.

Finally, the poster session with all participants! The students who did not participate in the presentation on the stage fully reported on the achievements of this year with more than 20 beautiful posters.

Lastly, on behalf of the sponsor companies, Mr. Koji Aso, Executive Assistant to Corporate Planning Officer (in charge of IR, Public Relations, and Sustainability) and General Manager of Sustainability Department of Sumitomo Corporation gave a comment, which brought the event to a close.

It was the first time in three years that we had a face-to-face reporting session. This year's debriefing was enjoyed by everyone who participated, remembering the response of face-to-face communication that had been forgotten for a while.
(2022/10/14)