Activity with Soponsor Companies
Infomration about activities with Sopnsor Companies
2019/9/27 GEfIL Abroad Program Reporting Session and Get-together party took place!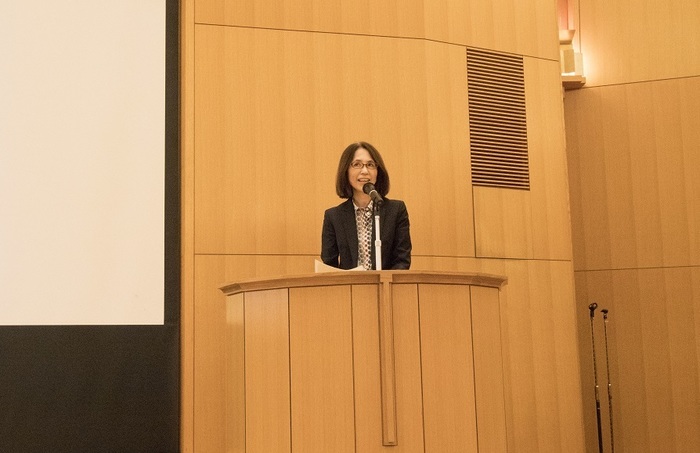 27 members from 13 companies joined Reporting Session for GLP-GEfIL Abroad Program 2019 and Get-Together Party on 27th September, 2019 (15:30~20:30) Venue at Ichijyo Hall, Yayoi Kodo, Yayoi Campus.

Prof. Sawako SHIRAHASE, Executive Vice President of UTokyo gave an opening speech, followed by presentations from 6 sponsor companies as follows;

SUMITOMO MITSUI BANKING CORPORATION, Mr. Shunya SAITO, Assistant vice President, Recruiting Group, Human Resources Division
East Japan Railway Company, Mr. Sho YAMANISHI, Deputy General Manager, Global Railway Business Division, International Affairs Headquarters
NOMURA SECURITIES CO., LTD., Ms. Saori TANAKA, Vice President, Graduate Recruiting, Human Resources Department
SONY CORPORATION, Mr. Yoshinobu TASHIRO, Deputy General Manager, Talent Acquisition Department, Corporate Human Resources Division
SUMITOMO Corporation, Mr. Toshihiro IWAMURA, Assistant Manager, Recruitment Team, Human Resources Department
Eisai CO., Ltd., Mr. Keishi AKADA, hDAC Data Science Lab

The next is Reporting Session from GLP-GEfIL Students about their Abroad Programs. Following 4 groups represented GEfIL Abroad Programs which took place this year.

LSE-PKU Koyo ASANO, Rintaro KAI, Maja LIECHTI, Kentaro MATSUMURA
GENEVA Hiroshi HASHIGUCHI, Julie TAMURA, Mayuko TANAKA, Ryosuke UOZUMI, Akie YANAGI
BERLIN Takashi AMAKASU, Tomohiro-Neil MOTOHASHI, Rika SASAGAWA, Kaetsu YAN
STANFORD Takuma FURUKAWA, Shunsuke OKA, Doohyun WON, Kirara YOKOE

Finally, presentation was conducted by Mr. Shion HONDA, Vice President of GEfIL ALUMNI GROUP Council, who explained about GEfIL ALUMNI GROUP. We will expect more ALUMNI members after the graduation ceremony for Dai 3 kisei, which will be conducted in January 2020.

After the Reporting Session, all participants enjoyed at Get-Together Party. GLP-GEfIL students expressed their sincere thanks to all sponsor companies who make this program possible.

GLP-GEfIL program will keep growing and strengthen its diversity with generous support of our sponsor companies.

 
(2019/10/09)