Activity with Soponsor Companies
Infomration about activities with Sopnsor Companies
9/18 GEfIL Abroad Program Reporting Session took place.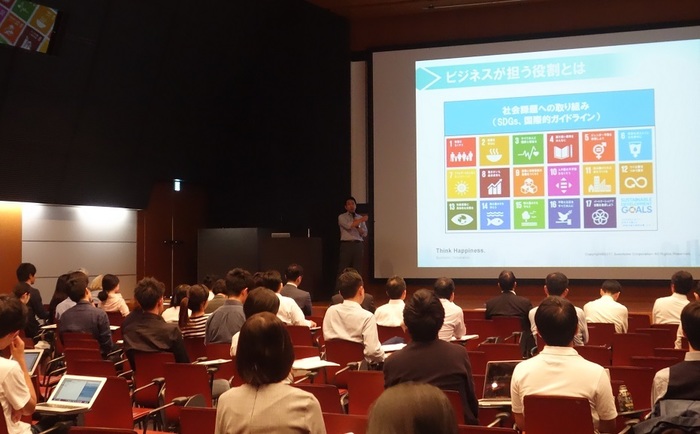 GEfIL Abroad Program Reporting Session 2018 took place on Tuesday 18th, September to GLP Sponsor companies and prospective sponsors.

29 guests from 13 sponsor companies and 3 prospective sponsors got together.

The session started with Thanks messege to Sponsor companies by Prof. Haneda, Executive Director of GLP Office and Executive Vice President of the University of Tokyo. Following to the message, 7 sponsor companies made presentation about their companies and industries.

The next session was GEfIL Abroad Program Reporting Session. In 2018, 124 GEfIL students in total have participated in 41 programs in 21 countries, thanks to generous financial support by sponsor companies. Prof. Liscutin reported summary of 2018 GEfIL Abroad Program and following 5 teams made presentations of their experiences as representatives of GLP-GEfIL students.

1. SOAS (School of Oriental and African Studies): Yoshihiro ABE (dai-3-ki), Junya MORIOKA, Naho OKADA (dai-2-ki)
2.Helsinki Summer School : Shiene KIRIYA, Ayano KOBAYASHI, Leah HAN(dai-3-ki), Mayuko UNO(dai-2-ki)
3.Humboldt University :Erina NISHIZAKI, Fumiaki YANO, Maho YOKOTA(dai-3-ki), Chizu TAWARA(dai-2-ki)
4.Stanford University : Yasuhika GEN, Yuxiu Lynn LIN, Kyoko NAKAGAMI, Yohei
NOMOTO(dai-3-ki) Atsuki SAITO(dai-2-ki)
5.Thailand Field Tirp :Shuohang GAO, Riho IASJI, Kanako KUROKI, Rikifumi OTA, Eriko SEKI (dai-2-ki)

Following to the reporting session, Shion HONDA, Vice President of GEfIL ALUMNI GROUP made a speech about GEfIL ALUMNI activity and schedule of coming election for next ALUMNI COUNCIL.

Finally we had a Get-Together Party with all students and guests with open and frank atmosphere. The scene of the summer this year, Guerilla Heavy Rain has stopped by the end of the party and Autumn has come.



 
(2018/09/27)