Activity with Soponsor Companies
Infomration about activities with Sopnsor Companies
10/13 GLP-GEfIL celebrates its first Graduates & conducts Reporting session for GEfIL Abroad Program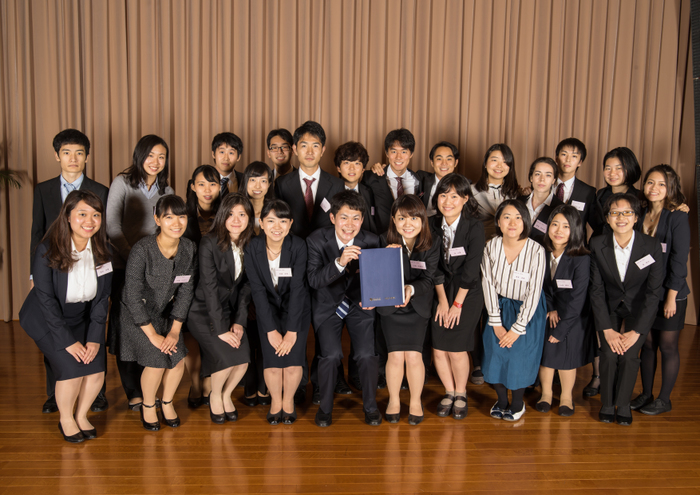 GLP-GEfIL celebrated its first graduates of 38 students at Takeda Hall in Asano Campus on 13th October, 2017. Following to a Graduation Ceremony, GEfIL Abroad Program Reporting session and Get-together party with sponsor companies took place. Participants of 81 GLP-GEfIL students and 35 from sponsors and sonsor-to-be comapnies had a great day.

Prior to reporting presentation from GEfIL students, there were presentations from 7 of the sponsor comapnies about their international agenda and strategies, which were great stimulus for GLP-GEfIL students.

As for reporting session of GEfIL Abroad Program, 5 groups made presentation on stage. They represented 111 GLP-GEfIL students who experienced GEfIL Abroad Program in 18 countries, and 47 carefully selected international study destinations this summer. The destinations and name of presenters were as follows;

Group 1 (Yale University) Yuki Hemmi, Mana Kamakura, Madoka Senda, Takashi Uchida (dai-2-ki)
Group 2 (Munich International Summer Program) Masaki Nakanishi, Yukiha Noda (dai-1-ki), Kanako Kuroki, Shen Hao (dai-2-ki)
Group 3 (London School of Economics and Political Sciences (LSE)) Kim Jung Hyun (dai-1-ki), Mayu Arimoto, Aina Kondo, Ren Dongying (dai-2-ki)
Group 4 (IARU&Individual program team) Kim Myeongok, Moe Omiya, Jin Yoshikawa (dai-1-ki), Koji Endo (dai-2-ki)

Finally at Get-together party, participants from companies, GLP-GEfIL students and Professors and staffs from UTokyo had chance to communiate each other and had good time.
 
(2017/10/30)